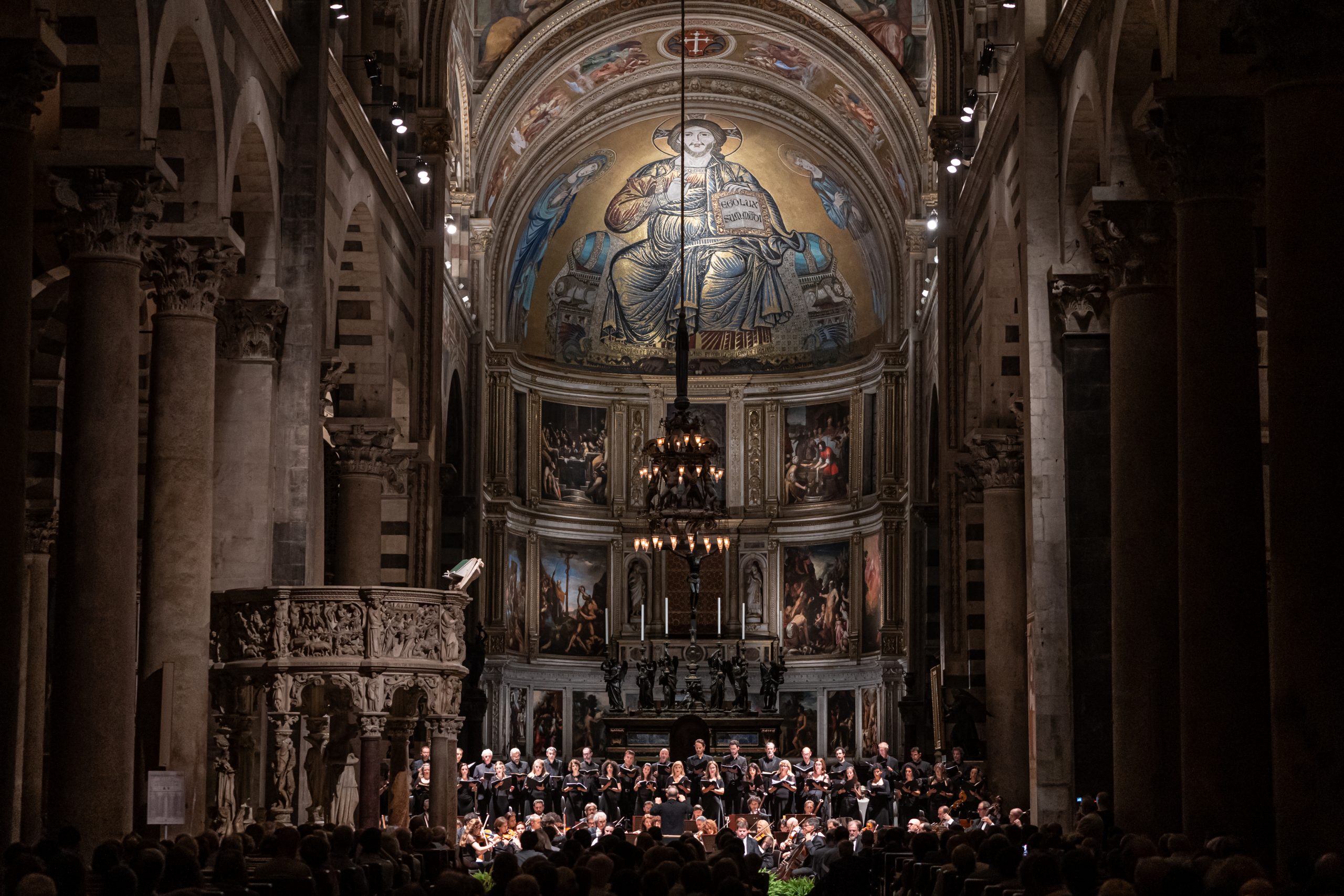 Ph. Giannelli
Anima Mundi is back for the twenty-second time to fill the Cathedral and Camposanto of Pisa with great music. Seven concerts, as per tradition, from 9 to 28 September, alternating great masterpieces of sacred inspiration, combining the Catholic and Protestant traditions in the spirit of ecumenism that is more current than ever today, with special moments of the instrumental and vocal repertoire.
by Opera della Primaziale Pisana with the contribution of Fondazione Pisa and under the patronage of Comune di Pisa
artistic direction Trevor Pinnock
Cathedral, Saturday 9 September, 21:00
Lauryna Bendžiūnaitė, Soprano
Valentina Farcas, Soprano
Mauro Peter, Tenor
Slovenian Philharmonic Orchestra and Choir
Trevor Pinnock, Conductor
Mendelssohn, Symphony No.2 Op.52 "Lobgesang"
Camposanto, Tuesday 12 September, 21:00
Aleksandar Madžar, Piano
Mozart, Andante KV 616
Schumann, Fantasy op.17
Liszt, Two Concert Studies: Waldesrauschen, Gnomenreigen
Debussy, Children's Corner, L'isle joyeuse
Camposanto, Thursday 14 September, 21:00
Gypsy Baroque
Suonar Parlante Orchestra
Vittorio Ghielmi, viola da gamba and direction
Cathedral, Saturday 16 September, 21:00
Motets of The Bach Family
Tölzer Knabenchor
Clemens Haudum, Organ
Vanessa Lorenz, Violone
Marco Barbon, Conductor
Motets by J.S. Bach, J. C. Bach, J. Bach, J.M. Bach, J. L. Bach
Camposanto, Tuesday 19 September, 21:00
Lieder from Romanticism to the Twentieth Century
Martina Welschenbach, Soprano
Benjamin Appl, Baritone
James Baillieu, Piano
Music by Mahler, R. Schumann, C. Schumann, R. Strauss
Cathedral, Friday 22 September, 21:00
Cremona Antiqua Orchestra
Piermarco Viñas Mazzoleni, Baritone
Antonio Greco, Conductor
Haydn, The Seven Last Words of Christ Hob.XX:1
(1785 original version for orchestra)
Matteo Magistrali, Le sette parole di Cristo in croce
Winner track of 15th edition of Anima Mundi's Competition of composition
Cathedral, Thursday 28 September, 21:00
Chen Reiss, Soprano
Luzerner Sinfonieorchester
Michael Sanderling, Conductor
Mahler, Symphony No. 4
Torre, 9, 16, 22, 28 September
Welcome Fanfare

Music by G.F. Händel, T. Susato, J. Clarke, M. Praetorius,
W. Byrd, H. Purcell, D. Speer, J. Mouret, M.A. Charpentier
Info
Free entrance, but by ticket.
The booking of tickets can be made only online starting from 6 September at 10:00, for all the concerts.
Access to the online booking needs a registration and under the same name a maximum of two people per concert can be booked. You can register as a new user in the 'My tickets' section of the booking page.
At the moment ONLINE BOOKING IS OUT OF THE STOCK FOR ALL CONCERTS. Tickets left over and not collected will be released for the concert in the evening, only at the Ticket office from 18:00.
There are no special areas reserved for disabled persons within the monuments; tickets are free for everyone. Those with restricted mobility and wheelchair users only, who wish to attend the concerts should email animamundi@opapisa.it by 6 September, to ensure that appropriate spaces are available, in compliance with safety regulations.
It is not possible to book by phone or by email.
TICKET OFFICE AND INFORMATION DESK
only from 7 September
at Opera del Duomo Museum
Piazza del Duomo, Pisa
tel +39050835029
animamundi@opapisa.it
Mon-Sat 10:00-19:00*
*21:00 on the concert day
Press agent Matilde Meucci
---