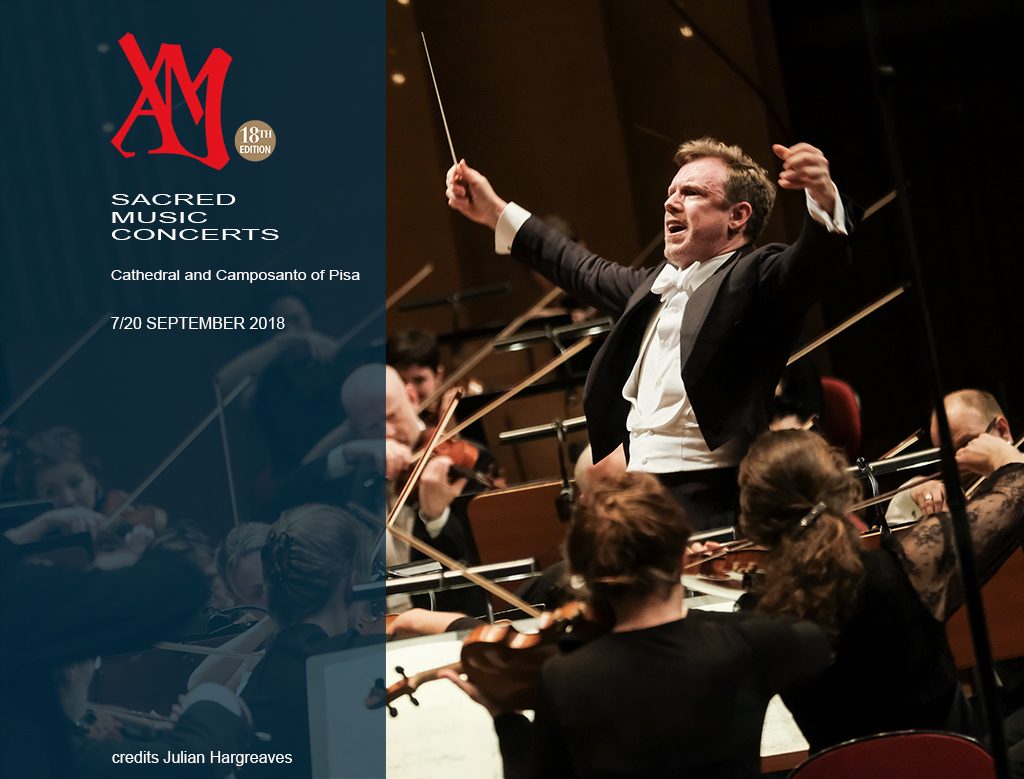 Anima Mundi certainly has not needed to mature its eighteen years of holding events to fully come of age. It is undoubtedly an achievement worth celebrating and it's not the only one this year. In fact, on 26 September 1118 Pope Gelasius II consecrated the Cathedral of Pisa to Santa Maria Assunta. Nine hundred years later, Anima Mundi celebrates this event, which is no less impressive than important, with a bill that, from 7 to 20 September, will confirm its vocation to bring to Tuscany the most prestigious figures of international symphonic and chamber music and other important novelties to complement the now traditional seven concerts. The most relevant novelty is the designation of the new artistic director, Daniel Harding, once again one of the most important conductors today, who succeeds Sir John Eliot Gardiner, who had been at the helm of the festival for twelve previous editions.
by Opera della Primaziale Pisana
artistic direction Daniel Harding

Cathedral, Friday 7 September, 21.00
Opening concert
Ensemble barocco and Coro da Camera del Conservatorio Luigi Cherubini
Francesco Rizzi, Choir Master
Alfonso Fedi, Conductor
Giovanni Carlo Maria Clari, Inno per la Consecrazione della Chiesa
Johann Sebastian Bach, Cantata Gottes Zeit ist die allerbeste Zeit (Actus tragicus) BWV 106
Andrea Baratti, Psalmus David for mixed chorus in 4 voices, strings and organ
Winning composition of 11th edition of the Anima Mundi competition
Johann Sebastian Bach, Cantata Aus der Tiefen rufe ich, Herr, zu dir BWV 131
Camposanto, Monday 10 September, 20.30
Liszt in Pisa
Michele Campanella, pianoforte and forte-piano
Wolfgang Amadeus Mozart, Fantasia in C minor K 475
Franz Schubert, Moments Musicaux op.94 n.1-3
Franz Liszt, Après une lecture de Dante. Fantasia quasi Sonata and Totentanz
Cathedral, Wednesday 12 September, 20.30
Dedicated to the Virgo
Eva Macaggi, Soprano
Anna Ussardi, Mezzo-soprano
Laura Marzadori, Violin
Orchestra Senzaspine
Tommaso Ussardi, Conductor
Antonio Vivaldi, Concert, In due cori per la SS. Assunzione di Maria Vergine for violin and strings RV 581
Giovanni Battista Pergolesi, Stabat Mater for soli, choir and strings
Camposanto, Friday 14 September, 20.30
Il Suonar Parlante Ensemble
Vittorio Ghielmi, viola da gamba
Celtic Baroque
Cathedral, Saturday 15 September, 20.30
Swedish Radio Symphony Orchestra
Daniel Harding, Conductor
Anton Bruckner, Symphonie n.5 'Religious'
Camposanto, Tuesday 18 September, 20.30
Festival Strings Lucerne Chamber Players
Music for strings by Wolfgang Amadeus Mozart, Béla Bartók, Antonín Dvořák
Cathedral, Thursday 20 September, 20.30
Corinne Winters, Soprano
Ann Hallenberg, Mezzo-soprano
Edgaras Montvidas, Tenor
Gianluca Buratto, Bass
Monteverdi Choir
Orchestre Révolutionnaire et Romantique
Sir John Eliot Gardiner, Conductor
Giuseppe Verdi, Requiem Mass
Torre, 15 and 20 September, 20.00
Welcome fanfare
Rules on admission to concerts
The concerts for the Festival of Sacred Music Anima Mundi will be free.
The booking of tickets for all the concerts scheduled can be made only online www.vivaticket.it/eng/ starting from Tuesday, September 4th at 10.00, while stocks last. Booking online closes anyway at 18.00 on the date of concert.
Access to the online booking needs a registration and under the same name can be booked up to two per person per concert. Vouchers thus obtained can be converted with the regular admission ticket only on the day of the concert at the Ticket office Anima Mundi, from 10.00 to 19.30. Tickets not collected will be released for the concert in the evening, only at the Secretariat from 19.30.
For you safety and that of the monuments that will host the concerts (the Cathedral and the Camposanto), the layout is with just two sections, numbered and unnumbered seats, and admission can only be granted to regular ticket holders.
There are no special areas reserved for disabled persons within the monuments; tickets are free for everyone. Those with restricted mobility and wheelchair users only who wish to attend the concerts should email animamundi@opapisa.it to ensure that appropriate spaces are available, in compliance with safety regulations.
The concerts are free to attend and of the highest quality; they are not suitable for children. Esteemed guests are requested to consider the possibility that children may disturb the enjoyment of other members of the audience.
Booking by phone or email is not allowed.
ONLINE BOOKING IS OUT OF THE STOCK FOR ALL CONCERTS
TICKET OFFICE AND INFORMATION DESK
at Sinopie Museum
Piazza Duomo Pisa
tel +39050835029 (only working starting from 4 September)
animamundi@opapisa.it
open from 4 to 20 September Mon-Sat 9am-6pm
from 9am to 8.30pm on the concert day (to 9pm on 7 September)
The Secretariat reserves the right to make changes for unplanned organisational reasons in order to ensure a fair distribution of tickets to all applicants, in accordance with safety rules. Such changes will be notified in the press and on the website of Opera della Primaziale Pisana, section 'EVENTS'.
PRESS AGENT
Matilde Meucci matilde.meucci@spaini.it
---