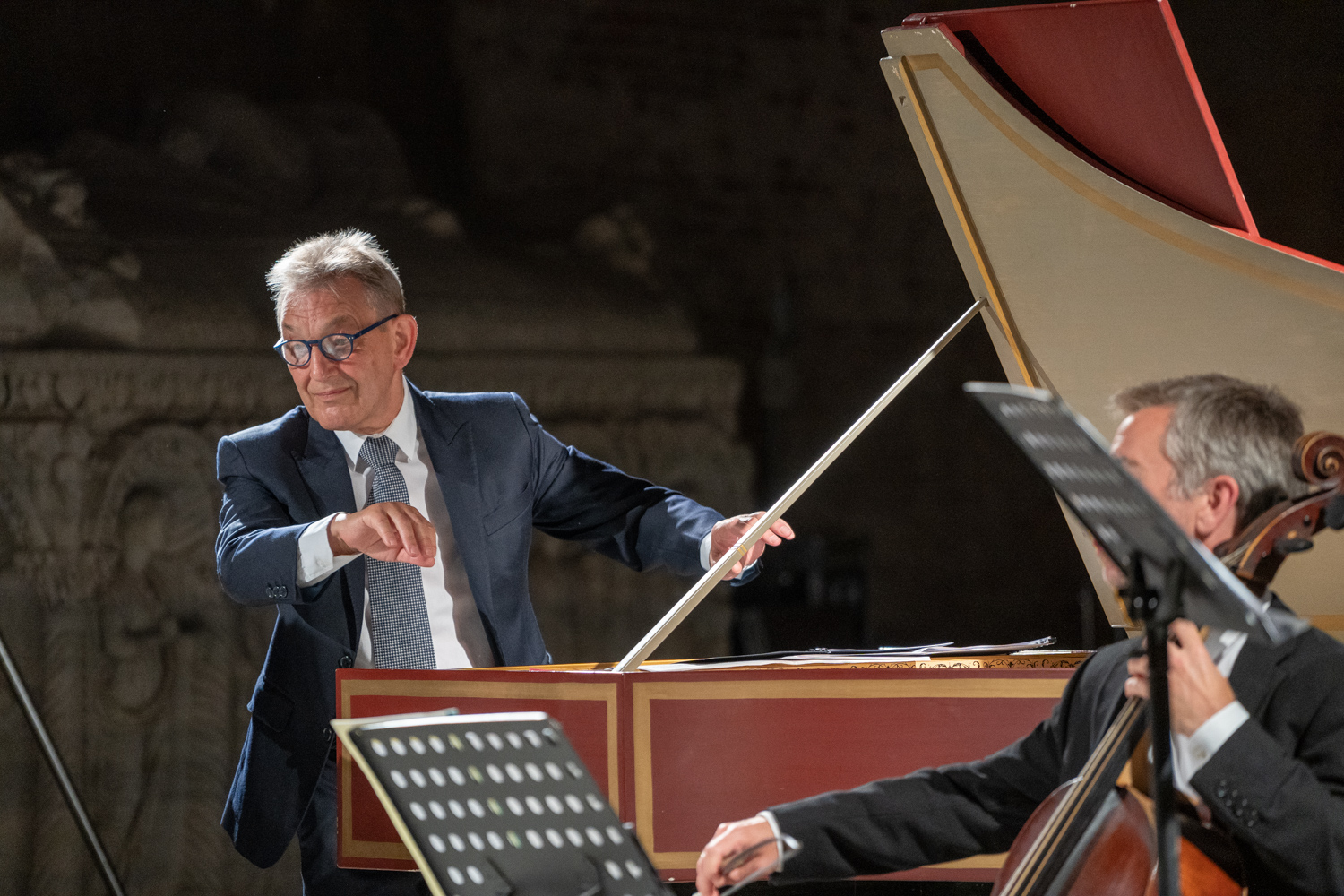 Trevor Pinnock, Ph. Giannelli
The Opera della Primaziale Pisana announces a new edition of Anima Mundi. For the twenty-first time since 2001, when an idea by Giuseppe Sinopoli gave birth to the festival, the Cathedral and the Camposanto of Pisa will be the extraordinary backgrounds of seven concerts, from the 9th to the 24th of September, all marked by a common spiritual dimension. The artistic director Trevor Pinnock, has called famous performers, emerging soloists and some of the most acclaimed Italian and foreign ensembles to play a program that alternates definite values and unpublished proposals over a span of almost three centuries.
by Opera della Primaziale Pisana with the contribution of Fondazione Pisa and under the patronage of Comune di Pisa
artistic direction Trevor Pinnock
Cathedral, Friday 9 September, 20:30
Susanne Bernhard, Soprano
Stefanie Irányi, Mezzo-soprano
Matthew Swensen, Tenor
Arttu Kataja, Baritone
WDR Rundfunkchor
NDR Vokalensemble
NDR Radiophilharmonie Hannover
Andrew Manze, Conductor
Ludwig van Beethoven, Missa solemnis
Camposanto, Monday 12 September, 21:00
Giuseppe Gibboni, Violin
Ingmar Lazar, Piano
Johannes Brahms, Sonata n.3 op.108
Niccolò Paganini, Capricci n.1, n.5, n.24
Henryk Wieniawski, Thême original varié op.15
Alfred Schnittke, À Paganini
Niccolò Paganini, La campanella
Cathedral, Wednesday 14 September, 20:30
Lauryna Bendžiūnaitė, Soprano
Anna Bonitatibus, Mezzo-soprano
Maximilian Schmitt, Tenor
Matthew Brook, Bass
Ensemble vocale Continuum
Orchestra Haydn di Bolzano e Trento
Trevor Pinnock, Conductor
Franz Joseph Haydn, Libera me Hob.XXIIb:1
Wolfgang Amadeus Mozart, Ave verum KV 618
Wolfgang Amadeus Mozart, Requiem KV 626
Camposanto, Friday 16 September, 20:30
Vicens Prats, Flute
Magdalena Hoffmann, Harp
Carl Philipp Emanuel Bach, Sonata in G minor H.524.5
Gioachino Rossini, Andante e Tema con variazioni
Nino Rota, Sonata per flauto e arpa
Gabriel Fauré, Fantaisie op.79
Jean Cras, Suite en duo
Heitor Villa-Lobos, Bachianas Brasileiras n.5
Béla Bartók/Paul Arma, Suite paysanne hongroise
Camposanto, Sunday 18 September, 20:30
dedicated to Angelica Catalani
Sabina von Walther, Soprano
Maurizio Baglini, Piano
Franz Liszt, Sonetto n.123 del Petrarca
Verdi/Liszt, Miserere du Trovatore
Franz Liszt, Tre Sonetti del Petrarca
Mozart/Backhaus, Serenata from Don Giovanni
Giuseppe Verdi, Ave Maria from Otello
Rossini/Liszt, Guillaume Tell Ouverture
Franz Liszt, Oh, quand je dors
Cathedral, Tuesday 20 September, 21:00
Quartetto Alkedo
Umberto Cerini, Organ
Coro delle Voci bianche del Festival Puccini
Coro di Voci bianche dell'Istituto Arcivescovile Santa Caterina di Pisa
Wolfgang Amadeus Mozart, Sonate da chiesa KV 241, KV 244, KV 245, KV 328
Arvo Pärt, Fratres
Anton Bruckner, Tantum ergo, 4 Motets op.41
Paolo Furlani, Ave, o Maria
Winner track of 14th edition of Anima Mundi's Competition of composition
Cathedral, Saturday 24 September, 20:30
Charlotte-Anne Shipley, Soprano
Bettina Ranch, Mezzo-soprano
Brenden Gunnell, Tenor
Jerzy Butryn, Bass
Robert-Franz-Singakademie Halle
Männerkammerchor "ffortissibros"
Staatskapelle Halle
Hartmut Haenchen, Conductor
Giuseppe Verdi, Messa da Requiem
Rules on admission to concerts
Entrance to the concerts for the Festival of Sacred Music Anima Mundi is free, but by ticket.
The booking of tickets can be made only online www.vivaticket.it/eng/ starting from 7 September at 10:00, for all the concerts. Access to the online booking needs a registration and under the same name a maximum of two people per concert can be booked. Booking online closes when no more seats are available and, in any case, at 12:00 on the day of the concert. Vouchers thus obtained can be converted at the Ticket office at any time, within 18:00 on the concert day.
ONLINE BOOKING IS OUT OF THE STOCK FOR ALL CONCERTS. Tickets left over and not collected will be released for the concert in the evening, only at the Ticket office from 18:00.
Tickets are nominative and non-transferable. The seats are all pre-assigned. Access is allowed up to 15 minutes before the start of the concert.
The Cathedral has only two entrances from the doors on the facade, in front of the Baptistery, and the Camposanto a single entrance from the main door, for all sections.
There are no special areas reserved for disabled persons within the monuments; tickets are free for everyone. Those with restricted mobility and wheelchair users only, who wish to attend should email animamundi@opapisa.it by 7 September, specifying the date of the concert, to ensure that appropriate spaces are available, in compliance with safety regulations.
The concerts are not suitable for children. Guests are requested to consider personally the possibility that children may disturb the enjoyment of other members of the audience.
Mask not mandatory but recommended.
It is not possible to book by phone or by email.
TICKET OFFICE AND INFORMATION DESK
only from 7 September
at Opera del Duomo Museum
Piazza del Duomo, Pisa
tel +39050835029
animamundi@opapisa.it
Mon-Sun 09:30-13:30/15:00-19:00*
*20:30 on the concert day, 21:00 on 20 September
14:00-21:00 on 12 September
The Secretariat reserves the right to make changes for unplanned organisational reasons in order to ensure a fair distribution of tickets to all applicants, in accordance with safety rules. Any updates will be announced on this page.
Press agent Matilde Meucci
---